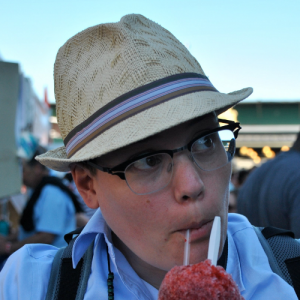 I am an experienced software engineer, technical project manager, community organizer and speaker (LinkedIn). My day job is with Mozilla (makers of Firefox) as a technical project manager on the Developer Evangelist team, currently focused on building the Firefox OS Developer Phone program.
I am co-chair of the annual Open Source Bridge conference, am a co-founder and President of the Stumptown Syndicate, a technology education non-profit, and run both Code N Splode and Women Who Hack, user groups for women in technology.
In 2012, I was recognized with an O'Reilly Open Source Award.
I live in Portland, Oregon with my wife, Sherri, her mother, and four cats and two dogs. My non-tech activities include Hatha Yoga, cycling, hiking, folding origami and cooking yummy vegan food.
Feel free to contact me any time. Check out christiekoehler.com for the different ways to find me on the web. You can also give me a call at 503-928-4133.
Subfictional Studios is my personal blog. Occasionally I also write on my wife's vegan food blog, Vegan Nosh.
About My Name
My last name is pronounced KAY-ler. Listen to me say my name in ogg and mp3.
Also, Christie is not short for Christine, so please don't call me that. CK or Chris are both perfectly acceptable, however.