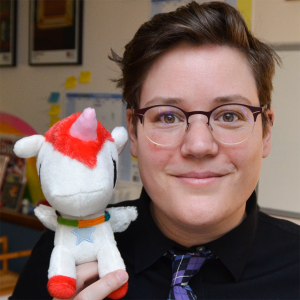 I'm a consultant, writer, programmer, open source expert, amateur photographer, and community organizer.
In 2017, I joined NumFOCUS as Projects Director guiding their Open Source Sustainability Program.
I run Authentic Engine, which helps technology companies and open source projects work through challenges related to sustainability, governance, participation, and leadership.
I also host and produce the Recompiler Podcast, feminist hacker podcast where we talk about technology in a fun and playful way.
From 2011 to 2015, I worked at Mozilla (makers of Firefox and Firefox OS), on various teams and projects. I also served as MozillaWiki module owner. You can learn more about my career experience at LinkedIn.
In 2014, I co-hosted the In Beta podcast with Kevin Purdy, which focused on indie and open source development.
My community involvement is significant: I co-chaired the annual Open Source Bridge conference from 2011-2015, am a co-founder of the Stumptown Syndicate, a technology education non-profit, for which I served as board member from 2010-2016. I lead Women Who Hack, (formerly Code 'n' Splode) a Portland-based user group for women in technology.
I am co-author of the Citizen Code of Conduct.
In 2012, I was recognized with an O'Reilly Open Source Award.
I live in Portland, Oregon with my wife as well as some cats and some dogs. My non-tech activities include Hatha Yoga, walking, photography, folding origami, learning guitar, and reading.
You can get in touch using this form.
Subfictional Studios is my personal blog.
My last name is pronounced KAY-ler (audio). You can also call me CK.