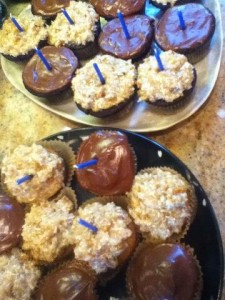 I don't have a whole lot to say this birthday. It's a low-key one. Sherri had to work today and we're both still recovering from last week's Open Source Bridge. I'm attending to some Mozilla things this morning and then plan to spend the rest of the day relaxing.
Yesterday we celebrated by having a few friends over, enjoying cupcakes, cider and a few rounds of Dominion.
We've had quite a year, with considerable effort put towards stabilizing Mom's health and that culminated in the death of a close friend. Quietly appreciating that I've made another journey round the Sun, that I have relative good health and a wonderful community is celebration enough for today.