Last Monday, Firefox turned 10 years old. Thunderbird turns 10 on 7 December.
This week we celebrate another birthday: MozillaWiki turns 10 on Wednesday, 18 November!
I'm immensely proud of our wiki, its ten year history, and of all the work Mozillians do to make MozillaWiki a hub of collaboration and a living memory for the Mozilla Project.
To show our appreciation for your efforts over the last decade, the MozillaWiki team has created a 10th Birthday badge.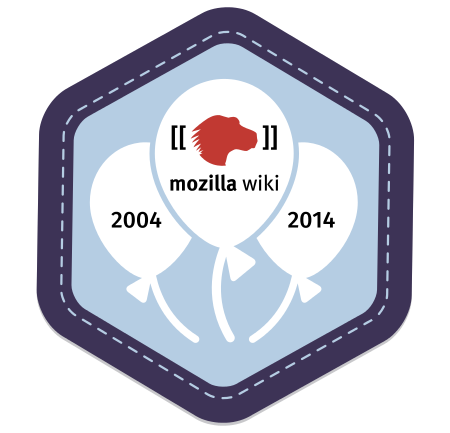 All you need to do to join in the celebration and claim the badge is log in to MozillaWiki. Once you've done that, you'll see a link to claim the badge at the top of the page. Don't have a MozillaWiki account? No worries! Create one during this Birthday celebration and you can claim the badge too.
A bit of MozillaWiki history
Before I talk about all the good work we've done, and what we have planned for the remainder of this year and beyond, let's take a quick stroll through the last 10 years. Thank you Internet Archive for hosting these snapshots of the wiki!
July 2004
The earliest snapshot I could find of the domain wiki.mozilla.org was from July 2004. It looks like we were hosting separate wiki installations, which may or may not have been Mediawiki.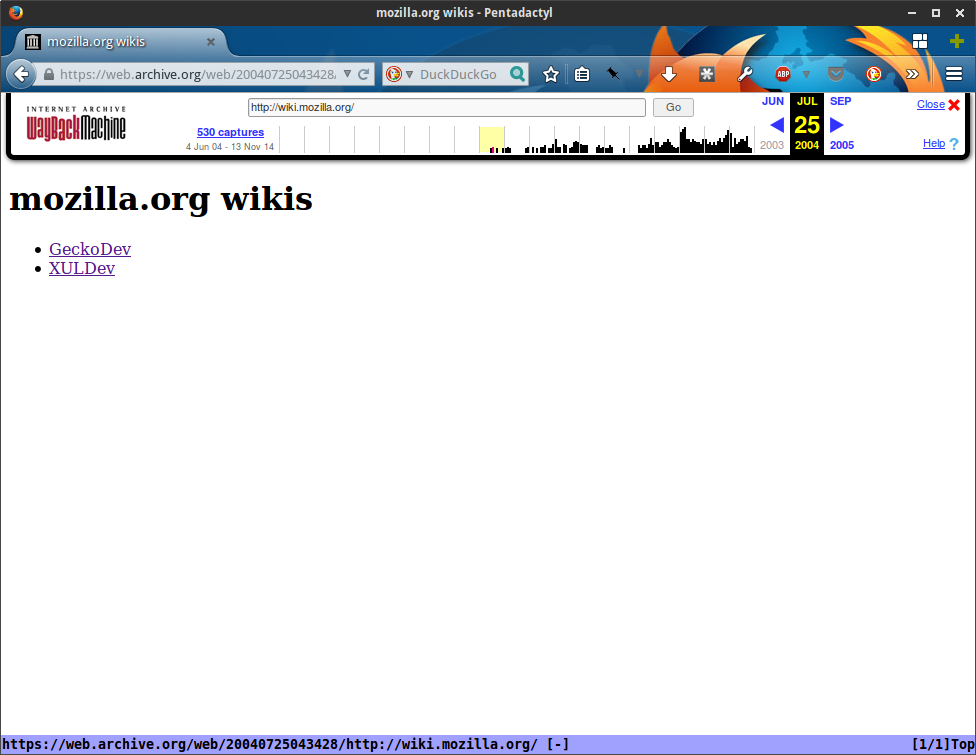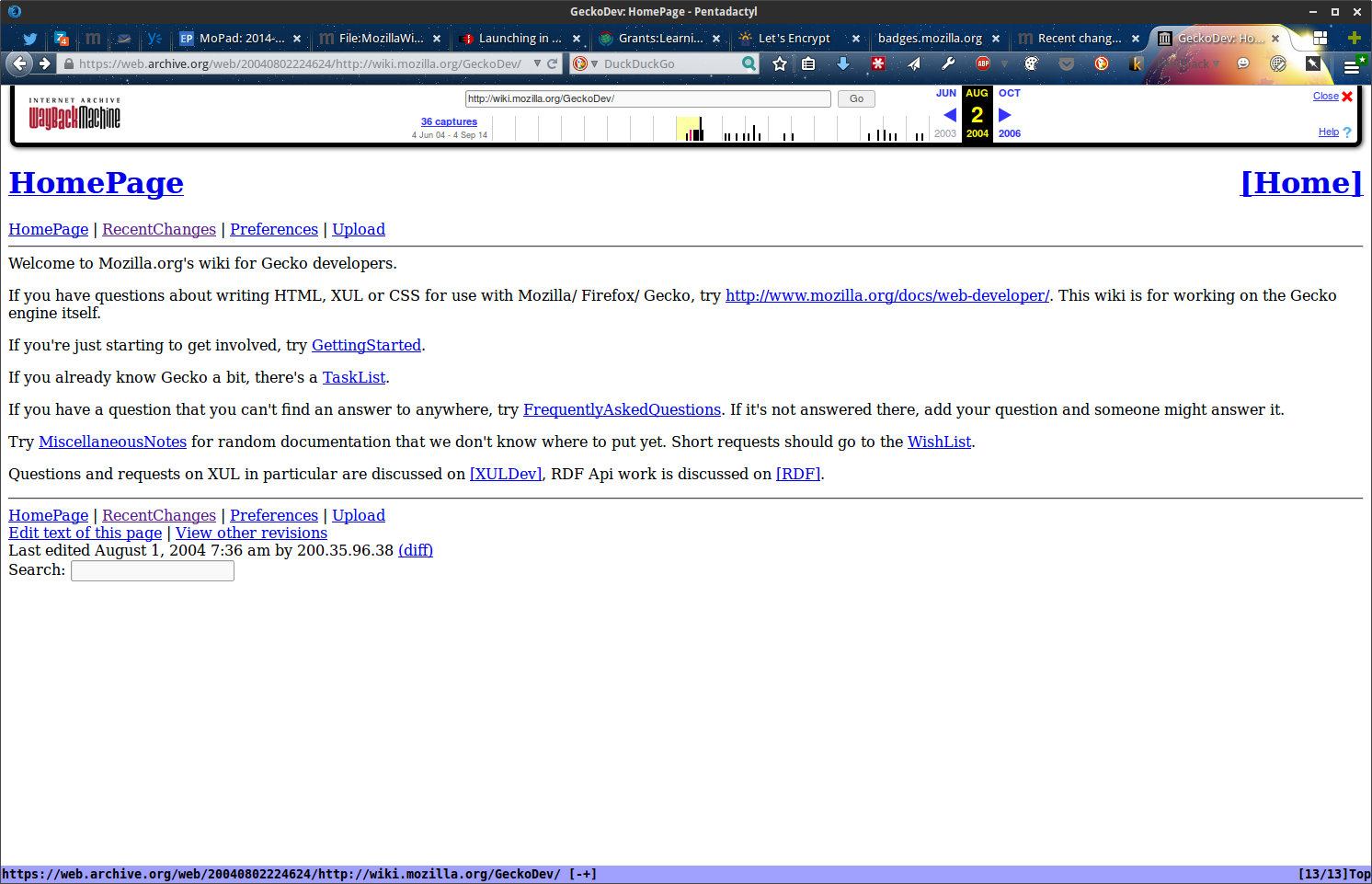 November-December 2004
According to WikiApiary, the current installation of MozillaWiki was created on 18 November 2004. The closest snapshot to this date in the Internet Archive is 11 December 2004: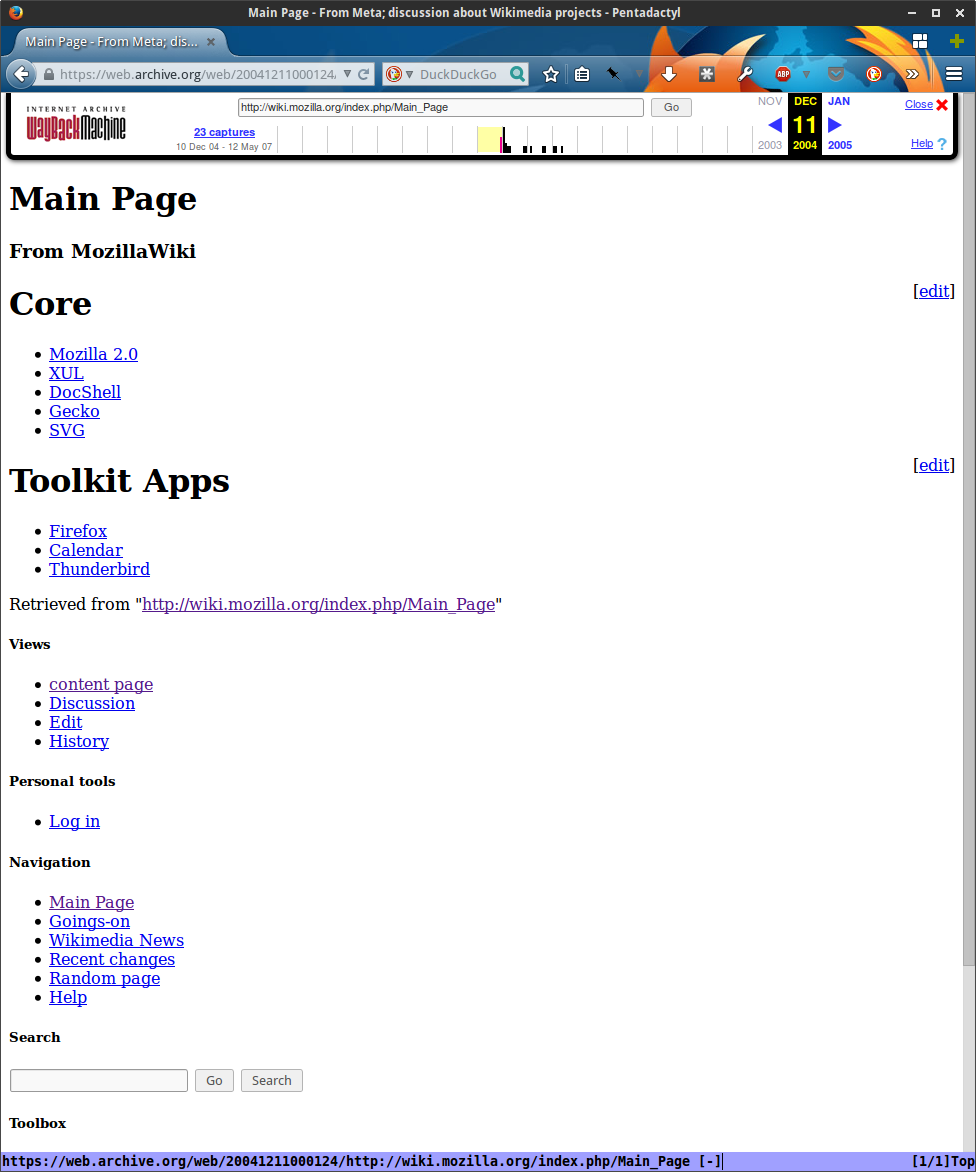 April 2005
By April 2005, the wiki had been upgraded, had a new theme (Cavendish), and had started using Apache rewrite rules to make the url pretty (e.g. no index.php).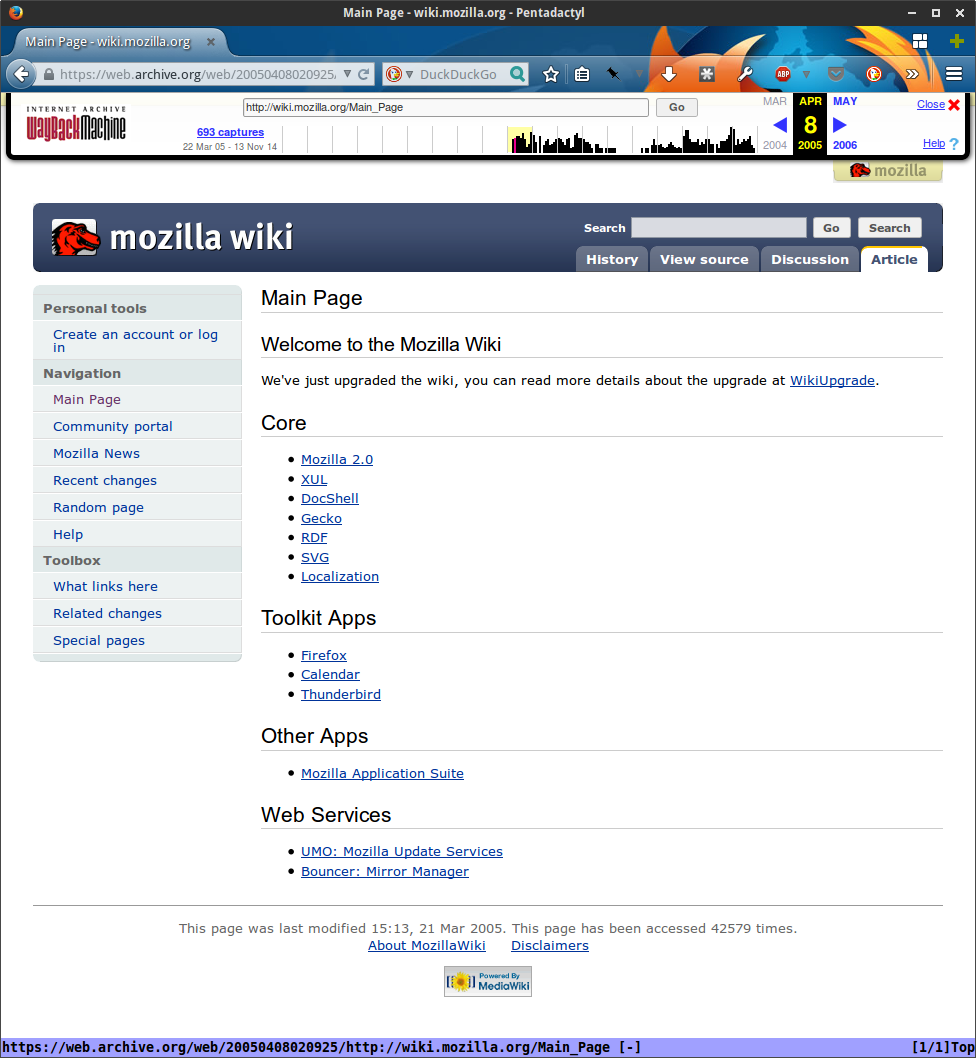 August 2008
Three years later, in April 2008, we were still rockin' the Cavendish theme and the Main Page had some more content, including links to the weekly project call that continues to this day.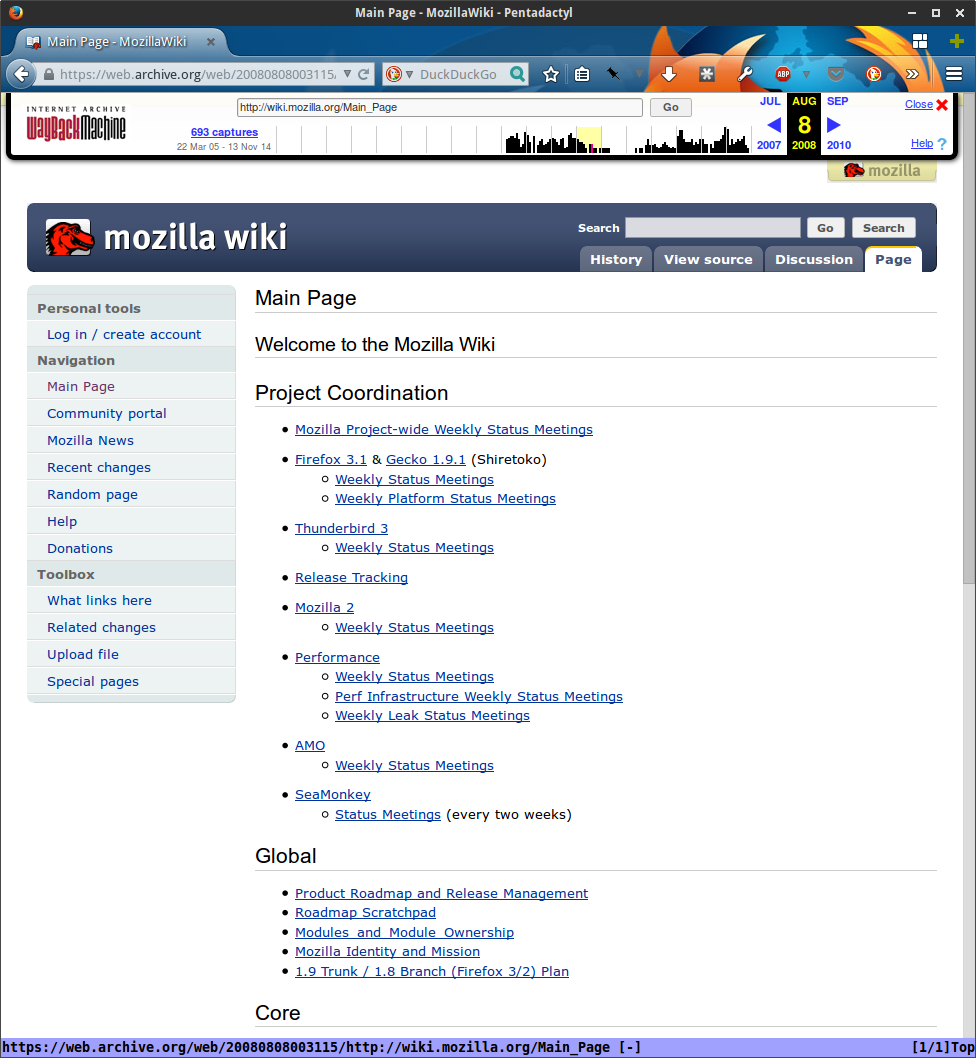 December 2010
We started tracking releases in December 2007 (see version). Here's what the Releases page looked like in December 2010.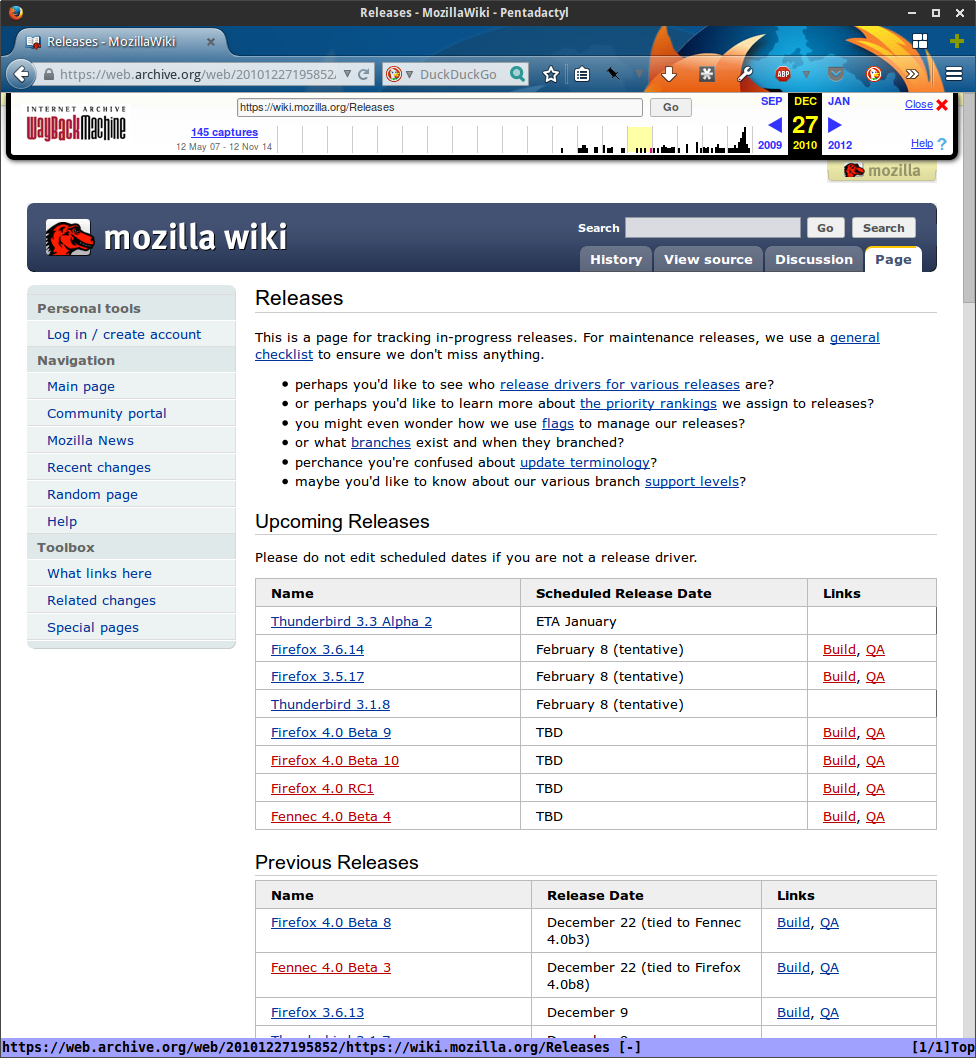 May 2011
In May 2011, after 6 years of service, Cavendish was retired as the default skin and replaced with GMO.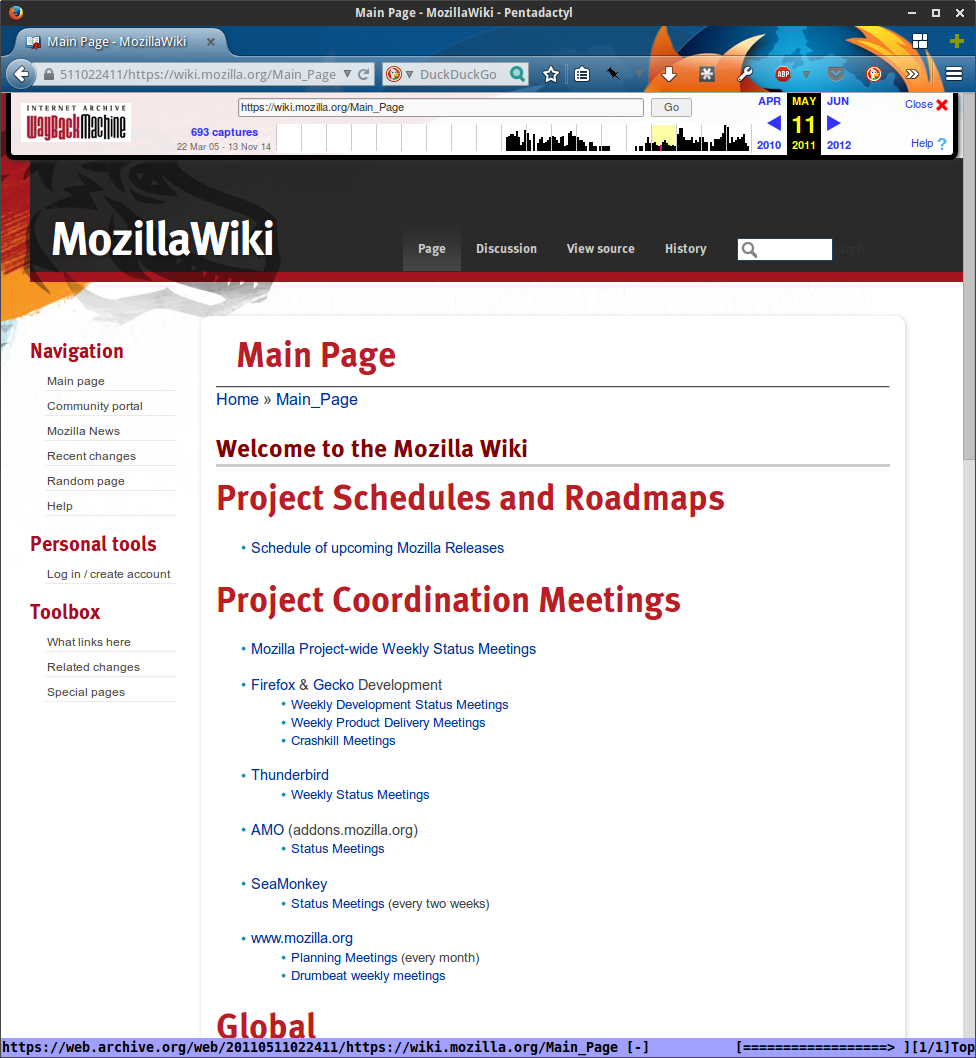 July 2012
A year later, July 2012, MozillaWiki looked much the same.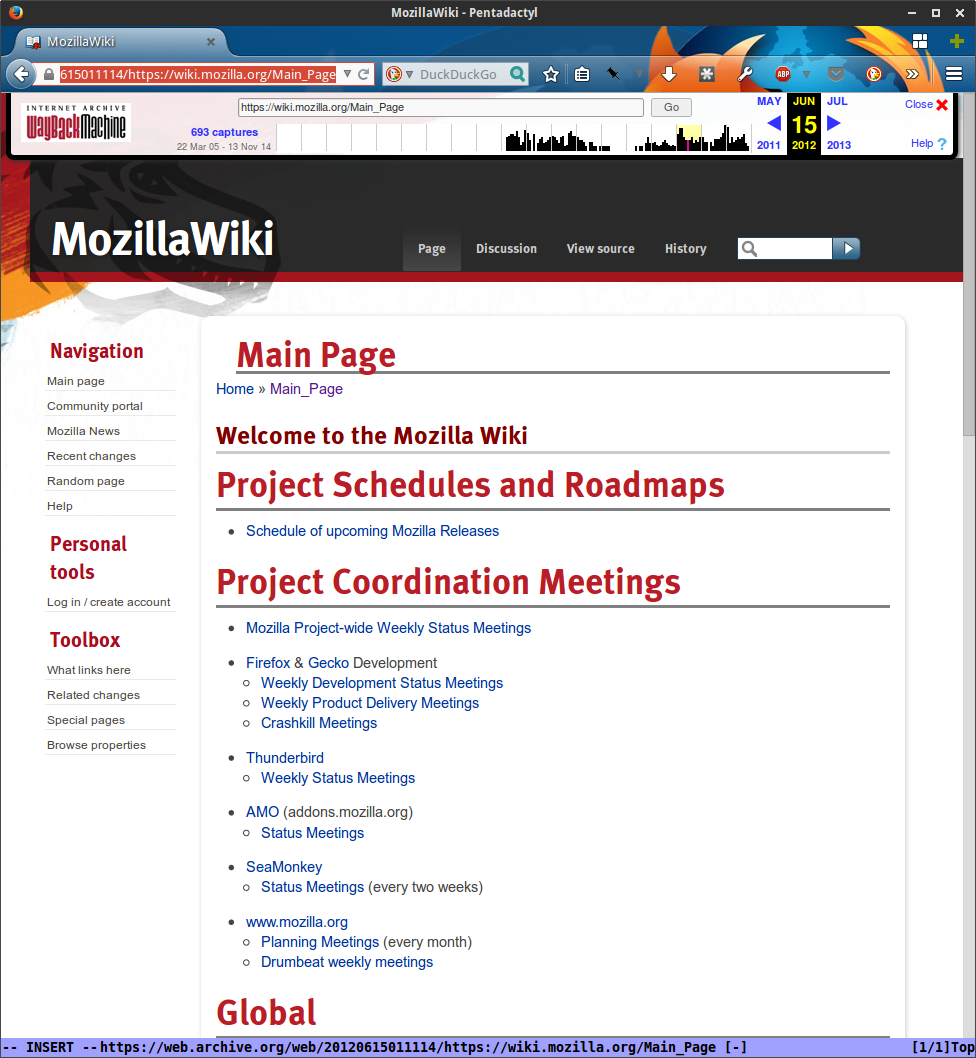 July 2013
By July 2013, the Main Page was edited to include a few recent changes, but otherwise looked very similar.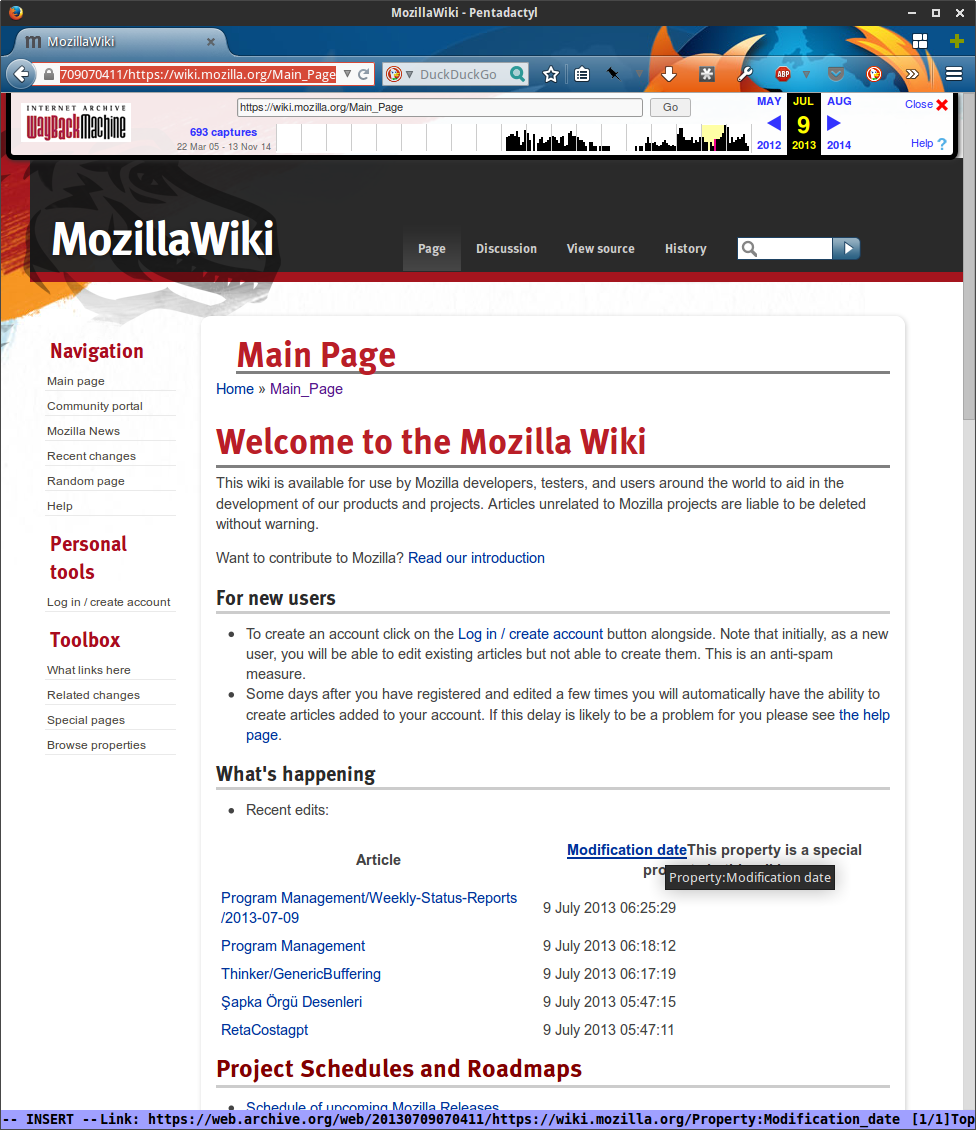 August 2014
By August 2014, the revitalization of the MozillaWiki was in full swing and we were preparing for a major update to both the skin (GMO to Vector) as well as the underlying software (Mediawiki 1.19 to 1.23). We also had made significant changes to the content of the Main Page based on results of our recent user survey.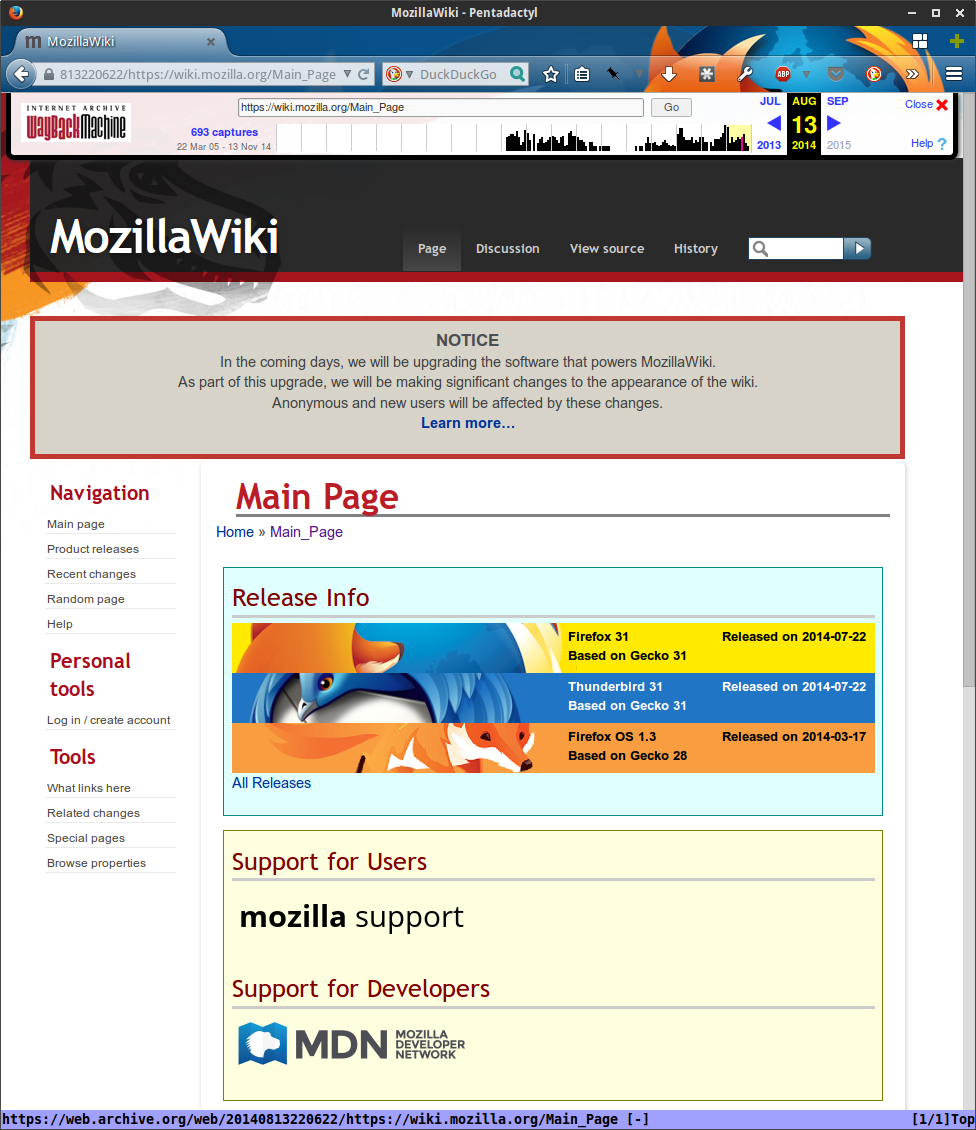 November 2014
Here's what the wiki looks like today, 17 November, the day before it's birthday. We're running a slightly modified Vector skin and Mediawiki 1.23.x branch.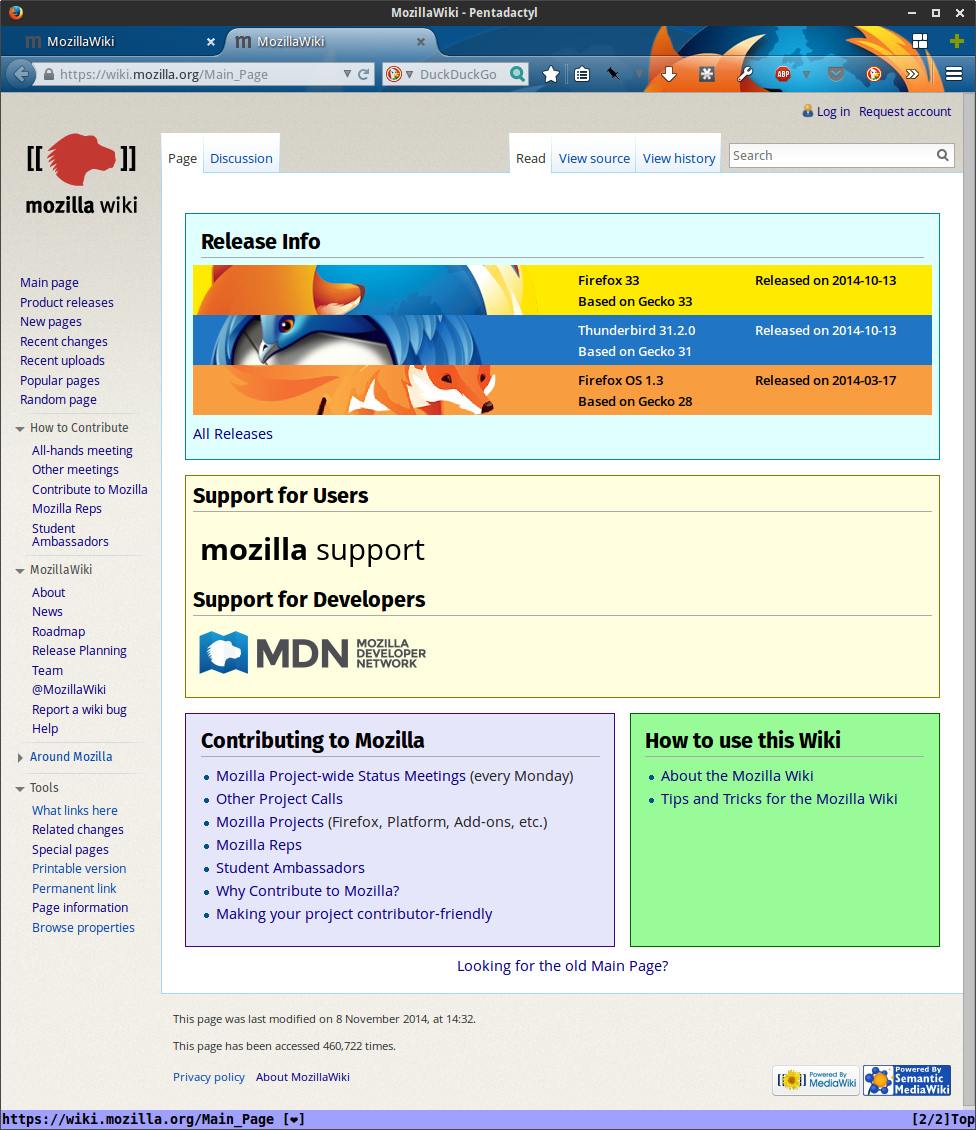 MozillaWiki today
Pages, visitors and accounts
As of 16 November, MozillaWiki has 115,912 pages, all public, and nearly 10k uploaded files. About 630 people per month, on average, log in and make contributions to the wiki. These include both staff and volunteers. Want to track these stats yourself? Visit Special:Statistics.
The number of daily visitors ranges from 9k-30k, with an average likely around 13-14k. Who are these visitors? According our analytics software we get visitors from all over the world, with the greatest concentration being from the US, Canada and UK.
The wiki has over 330,000 registered user accounts. I estimate that about 300k of these are inactive spam accounts, so the real number for user accounts is probably closer to 30,000.
What kinda of content is hosted on MozillaWiki?
All kinds of project activity is coordinated and recorded on the wiki. This includes activity related to our products: Firefox, Firefox OS, WebMaker, etc. It also includes community activities such as Reps, Firefox Student Ambassadors, etc. Most project activities have some representation on MozillaWiki. People also use the wiki to track projects and goals on an individual level. In this regard, it served as a place for Mozillians' profiles long before we had mozillians.org.
The MozillaWiki isn't setup for localized content now, but this hasn't stopped our localized community from translating content. Every day a significant portion of account requests come from volunteers from regional communities and are often in a language other than English. In 2015, depending on resources available, we plan to significantly improve support for localized content on MozillaWiki.
2014 Accomplishments
This year we've made significant progress towards revitalizing MozillaWiki.
Accomplishments include:
Forming a team of dedicated volunteers to lead a revitalization effort.
Creating an About page for MozillaWiki that clarifies its scope and role in the project, including what is appropriate content and how to report issues.
Fixing years-old bugs that cause significant usability problems (table sorting, unavailability of Wikieditor, etc.).
Identifying a product owner for MozillaWiki and creating a Module for it, lead by a mix of staff and contributors.
Halting the creation of new spam and cleaning up significant amounts of spam content.
Upgrading Mediawiki from 1.19.x branch to 1.23.x branch AND changing the default theme without any significant downtime or disruptions to users.
Organizing a user survey and using those results to guide much of our roadmap, including the redesign of the Main Page and sidebar navigation.
Thank you everyone who has been a part of this work!
There's still plenty to do, and many ways to contribute
We've made so much progress on the technical and infrastructure debt of MozillaWiki that we're now ready to focus on improving content and collaboration mechnisms.
How can I help?
The are many ways you can help, and we have contribution opportunities for all kinds of skill levels and time commitments.
We're working on documenting and organizing these contribution opportunities here: https://wiki.mozilla.org/MozillaWiki:Contribute so check that page often.
Join our mailing-list or community call
If you'd like to help us organize those opportunities, or have other ideas for improving the wiki, join one of our MozillaWiki Team communication channels or one of our community meetings. These meetings are held twice a month on Tuesday at 8:30 PST / 15:30 UTC. Our next meeting is 16 December. All who are interested in contributing to the wiki are welcome.
In the meantime, log in to MozillaWiki and celebrate its birthday with us by claiming the birthday badge!